The German Occupational Safety and Health Act transposes EU directives on health and safety and forms the basis for numerous regulations designed to ensure the health and safety of workers. For a long time, the emphasis has been on protection against physical threats, which every employer must use to make a risk assessment for their businesses.
Since October 2013 this also applies explicitly to psychological stress – in short: stress. 
What is behind the term risk assessment?
Every employer is obliged to identify and assess possible sources of danger at the various workplaces in the company, otherwise he faces a fine. Such a risk assessment should ensure that potential deficiencies in work processes and working conditions can be identified, eliminated and employees trained accordingly.
However, the risk assessment does not only serve to identify and control the necessary measures for occupational safety and health, but also as proof for professional associations and other supervisory authorities.
How do you judge stress as a threat?
Close-up of tape measure wrapped around head[/caption]Close-up of tape measure wrapped around head[/caption]The implementation requires a lot of time and a considerable effort. Of course, this is especially true for large companies with many different workplaces. With the obligation to include mental stress in the risk assessment, this effort for occupational safety increases again considerably, because stress at work or at the workplace is much more difficult to classify than too high a noise level, the pollution of the air with toxic substances or the risk of electromagnetic or radioactive contamination.
For all these physical loads, there are limiting values and measuring devices that sound the alarm, when the limits are exceeded. But how do you measure stress?
The companies are lagging behind
According to the federal government, just 44 percent of all companies included stress as a factor in their risk assessment in 2017. Even more frightening than this small number is the response of the ministry of labor that there was no knowledge, as to whether these 44 percent would have taken corresponding concrete measures.
However, in physical hazards, more than 95 percent of all businesses change the situations they have identified as deficiencies and included them in their reports. Maybe many companies simply do not have the right tool at hand. 
Simplify your risk assessment with OiRA
OiRA (Online Interactive Risk Assessment) is a comprehensive software tool for all relevant areas in occupational safety. With OiRA, you create a rating for your company that systematically and holistically mediates and evaluates all the threats to the safety of your employees – including the dangers of mental stress.
OiRA supports you in structuring, planning and step by step implementing your risk assessment for mental stress. The most important points include: 
the definition of the areas and activities for which a risk assessment is to be established
the identification of mental stress in the respective work
an assessment of the stress burden
the planning and implementation of possible measures, if necessary
the effectiveness control of implemented measures
Updating and evaluating the risk assessment, if circumstances change
a detailed documentation

 
Always up-to-date with OiRA anytime, anywhere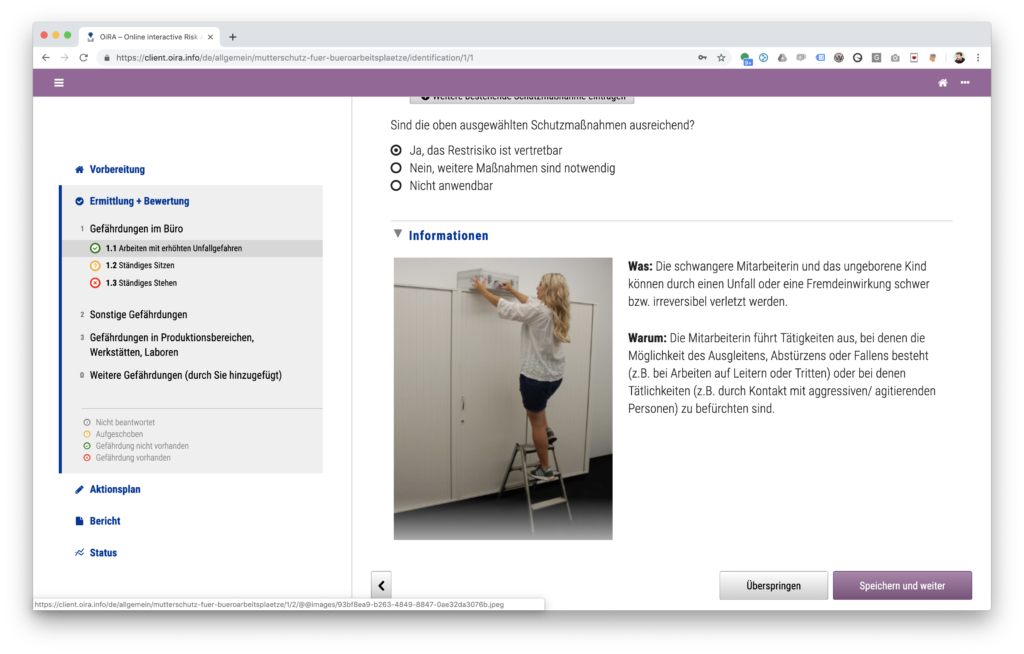 Forget about any paperwork or other software such as your word processor. Capture your results, when identifying sources of danger at various workplaces on the spot using your smartphone or tablet. These are stored immediately in the OiRA system and do not have to be painstakingly transferred. In this way, you have all the data on occupational safety in your company available digitally and can follow the development at any time or otherwise evaluate. 
At the same time, OiRA ensures that you are legally on the safe side at all times, because the tool ensures a careful implementation and documentation, with which you satisfy both the occupational safety and health of your workforce as well as all legal requirements. 
Templates, samples and practical modules that are absolutely suitable for daily use can be adapted to your needs and make it easier for you to carry out your risk assessment and the necessary measures to implement them quickly and easily.
Take a look at OiRA!
Book a free demo and review a compelling and easy-to-use tool for risk assessment. We demonstrate OiRA on our test server and answer all your questions - absolutely without obligation.